Name: Dominique Duque
From: Los Angeles , CA
Grade: 11
School: Los Angeles Center for Enriched Studies
Votes: 0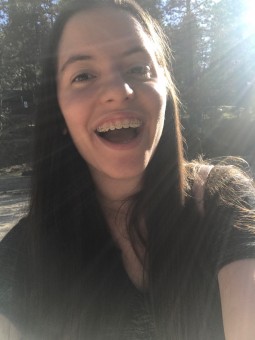 A
Heart for Animals

One
of the things I have done to make my community a better place is to
volunteer at the Los Angeles Zoo. Throughout my three years and over
150 hours of volunteering, I have been able to share my love of
science with others. Specifically, I love when I can engage a child
with an interesting animal fact. My job while volunteering is to
stand next to an exhibit, with a "biofact", such as a flamingo
feather, and connect the biofact with the real life animal to help
the children make a connection. When I spark a child's curiosity
about nature, and encourage him to read more about a certain animal,
I feel like I am passing on the love of knowledge that I was once
given as a child. The twelve week ecology course that I took as a
prerequisite to become a zoo volunteer helped me to develop
confidence and become knowledgeable about animal conservation. In
this capacity, I have been able to open up young minds.
One
such mind I helped to open up was that of little five year-old Rudy.
I taught him that flamingos are pink because they eat pink krill. He
excitedly asked, "So if I eat a bunch of blueberries, will I
turn blue?!" I told him that that was not quite correct, and
encouraged him to go home and research this topic. I could see the
gears turning in his head, as he realized that the Internet could be
used for more than just games.
One
difficulty I have encountered as a volunteer is the lack of interest
of some children. These children are a part of the "ipad"
generation, have short attention spans, and are easily bored. My job
is to engage them while teaching them about the wonders of science
and the cool evolutions of different animals. When I share my
enthusiasm while explaining a fact, the kids can sense it and they
themselves become interested. I love it when I see a child's eyes
brighten when she discovers the treasure trove of interesting animal
facts that I have unleashed before her. I delight in knowing that I
have helped to ignite a fascination with animals and science. I hope
that the spark of interest that I give to a child will lead to a fire
of curiosity and passion about science, and that each child will
carry that interest into her life as an adult. I hope that I will
make a lasting impact on a child who didn't know what she wanted to
be when she grew up, or had no interest in going to college until she
found a field in which she was interested.
Working
with the public has also given me the confidence to assert myself and
start my own club at school. I am president of the Cause for Paws
club. Our two objectives are to raise awareness of animal euthanasia
in Los Angeles animal shelters and to promote pet adoptions. We have
supported these efforts by holding pet supply and blanket drives to
benefit local shelters as well as selling baked goods to raise money
for local rescues. When my club members and I have shown up at the
shelter with a van-load of supplies, we know that we have not only
made a positive impact on our community but we have also brought
awareness to our school community.
Looking
forward, I plan to bring this knowledge to campus when I go to
university in the fall. I would like to create an animal volunteer
club to encourage college students to give back to their community
and enrich their lives while simultaneously helping others. I want to
foster a campus community that cares for one another and the world
around them. I want people to feel fulfilled by helping those less
fortunate. I also hope to lower the level of stress on the students
on my campus by giving them a positive outlet where they can spend
their time away form studying, while also supporting a good cause.