Name: Vanessa Gisselle Villegas
From: Cibolo, Texas
Grade: 11
School: Byron P. Steele
Votes: 0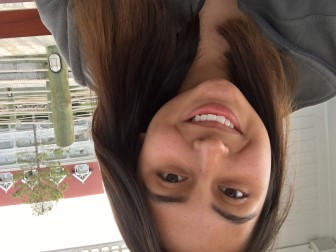 Youth
Forward Foundation
Helping
All Lives
I am very dedicated to helping others because I often times put myself
in a perspective other than my own. Knowing that there are people out
there who don't have the luxuries I have, and are
suffering/fighting for simple everyday needs that we take for
granted, gives me a reason to help others. Volunteering has allowed
me to view the world differently and show greater appreciation for
things in life. I value life more than ever, and realized not only
humans, but animals are lives I need to care for.
I volunteer in a variety of places, but mostly at Haven For Hope, the
Ronald McDonald House of Charities and at my local animal shelter. I
love preparing healthy meals for others as well as being around
animals. When I'm at Haven for Hope or the RMCH, I usually clean
and organize pantries, donate canned goods, make meals, and then help
serve food to everyone. At the shelter I wash the kennels, give the
dogs food and water, and play with them afterwards. I try to
volunteer every weekend and get anywhere between 2-5 hours of work
done at a time.
The hardest aspect of volunteering is simply knowing you can't solve
everyone's problems. When I'm serving food to the homeless, I
wish I could do more than just give them one meal. When I'm at the
shelter I want to adopt every animal there because I know not every
one of them will get to go home. I want to make all their lives
perfect, and it's hard to accept that it just can't be done.
Although it can be tough at times, I love doing what I do. Seeing the
huge smiles on people's faces when I make meals for them, shows me
how big of a difference my small acts of kindness can make. At the
shelter, I am happy just seeing people walk in, interested in
adopting, but it warms my heart even more when I see cats or dogs
walking out with their new family.

            What I do is forward looking because I'm contributing to helping someone
change their life; no matter how small the task, it has made
someone's life easier in some way. "Forward looking" means
continuing to do something no matter how small, knowing it can make
the biggest difference in the end. In the future, I hope to work with
nutrition and animal non-profit organizations to help provide healthy
meals to malnourished people and help with animal rights/welfare
issues. When I volunteer to make meals for people, I always create
healthy vegan dishes for everyone. This aligns with my plan of
majoring in Nutrition to become a Registered Dietician so I can help
others lead long healthy lives. After seeing how happy and grateful
the people and animals are just by seeing me be there for them, I
know my volunteer work can make a great difference in the future.