Name: Madeline Angela Iem
From: Samammish, Washington
Grade: Junior
School: Eastside Catholic High School
Votes: 0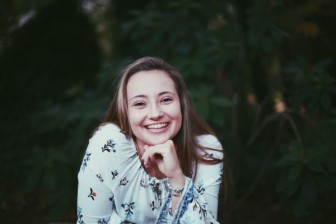 He looked down at me and smiled, the kind of smile that sticks with you,
one of those genuine smiles. He stood on that horse like he was the
king of the world, which is fitting, because to me he was. Jason is
roughly four feet, five inches and maybe sixty pounds. He is a
smaller individual but that had no match for his personality. He has
this effect on me, the same one that six year old me got when I was
would run downstairs on Christmas morning.
One day after school I was driving down the road, 124th to be exact and saw a sign to my
right. It was purple, I don't know how I had never noticed it
before but on that particular sunny afternoon it caught my eye. It
might have been fate, or maybe God was sitting there next to me in
the passenger's seat of my purple Rav 4. I will never know what
caused me to look but I am sure glad I did. The first thing I noticed
about the sign was the handicap symbol but something was different
about it, it was attached to the back end of a horse. It was such a
unique logo, like nothing I had ever seen. On the wheelchair was a
rider, with his hands thrown in the air. Underneath it read, "Little
Bit Therapeutic Riding Center." With my interest in horses – and
experience and love for helping people who have disabilities – I
walked in and, well, the rest was history. I immediately got into the
first available training session and learned the ropes. After that I
got paired with my first rider, Jason. Along with Jason, we worked
with Sarah, an occupational therapist. Every day she got to work
alongside people like Jason. That is when I knew my life's purpose
was to be an occupation therapist. I wanted to do every day what
Sarah does, help people. During our session Sarah would make sure
Jason was actively using muscles that without the horse where not
previously possible. Jason and I sang songs, and played catch, we
read books and did stunts, all which he was riding on top of the
horse.
Jason taught me that the greatest thing you can give someone is love,
unconditional love, for who they are, regardless of what they can or
cannot do. It's the small things you do for people.  Working
with Jason taught me that it's the little victories in life that I
want to help people accomplish, whether that be standing up on that
horse or making people feel like they matter. I want to be that
person. I want to be an occupational therapist and help people just
like Jason helped me. Most people think it's the therapist that helps
the patient but to me it's the other way around. Jason was the one
teaching me, helping me grow. Because of Jason I know who I am. I
know what I want to be and I know what I want to do. I want to stand
up on the horse. I want to help others like Jason helped me, and now
I know how to do it.