Name: Thao Truong
From: Sugar Land, Texas
Grade: Junior
School: Dulles High School
Votes: 31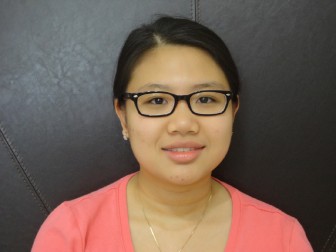 If I were to describe naturalization in one word, I would say freedom
with absolute certainty. My family, having barely scraped together
enough money to come to America, had to sacrifice everything to
create an opportunity for a better life. We, however, were lucky
enough to meet kindhearted souls willing to lend a hand and became
citizens after just 5 years. When I was young, my parents would often
tell me to live out my life by helping others who were in similar
situations because we were helped by others ourselves.
Now, 5 years later, I volunteer at BPSOS with their words in mind.
B.P.S.O.S, an organization that helps immigrants express their voice
through gaining citizenship, is the perfect place for me, as it
allows me to assist others in the same situation I was in. At
B.P.S.O.S, I was in charge of delivering mock interviews for the
students that were soon to graduate. Eventually, I proved that my
skills were sufficient and was promoted to teaching a class. As a
teacher, my biggest concern was that the students don't understand
the material or may have other difficulties that prevent them from
learning. Still, I helped them throughout their difficulties and was
rewarded with grateful smiles and sparkling eyes. Because of this, I
chose to volunteer in the area of education despite the complications
I came across. Volunteering at B.P.S.O.S. opened my eyes to the
sufferings in the world and I believe that I can change it, if only a
bit, by helping many people.
Surviving without being a citizen in America, only as a permanent
resident, is a hard thing to do as there are little benefits reserved
to permanent residents. Not being a citizen brings both mental and
financial pain as those who are not citizens only scrape by with
factory jobs or survive on minimum wage not enough to support the
entire family. Nowadays, programs such as food stamp help many.
However, as the funding for such programs decline, so does the
people's hopes of providing for their families. Though life is
better here than it was in the home country, it is not enough without
the benefits of citizenship. Because of situations like this arising,
B.P.S.O.S. was formed to aid people on their journey to a better life
by gaining citizenship. I, as lucky as I was to be helped by others,
wanted to return the favor and was offered the opportunity to do so
through B.P.S.O.S., which I took and are thankful for.

To me, "looking forward" is preparing others for a future that
can grant dreams and holds promise. Perhaps this might sound too
far-fetched for just one person to do, but if I continue to do my
part, I will help out others who come in search of better
possibilities. Although the world right now seems somewhat cold, time
will pass by and eventually, it will be filled with people willing to
help others and change the world for the better.