Name: Tyi-terria Clarke
From: Tampa, Florida
Grade: College Freshmen
School: University of South Florida
Votes: 0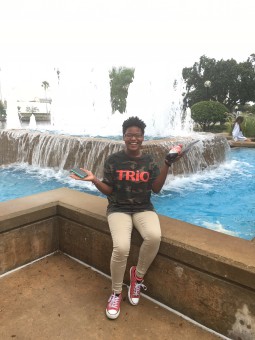 Tyi-terria Clarke
Volunteer for Change
I chose to volunteer with the elderly because I
have like hearing the stories that they have to tell. I like learning
about people's history straight from the person who experienced it. I tend to
volunteer during the summer three times a week and during the school
year for different organizations. As a volunteer, my duties ranged
from collecting inventory to helping set up events for the residents.
My biggest challenge as a volunteer would have to be having to
executing instructions in a timely and effective manner while making
sure everything was the way my leader wanted it. The most satisfying
aspect about volunteering, for me, is seeing how everything comes
together at the end, it is beautiful and being apart of it is
something amazing. Over the course of volunteering, I learned a lot
about the history of the people I volunteered for. I learned how to
lead people without forcing or commanding people.
My career goals consist of either becoming a Marine Biologist or a
Cardiothoracic Surgeon. I hope that I can incorporate volunteerism
into my work by joining Doctors without Borders to help people in
other countries. Forward looking means to plan for the future and I
do believe the activities I plan to do are "forward
looking". I plan to join clubs and volunteer while in college and
intern at hospitals. I just want to see others volunteering to help
people in their neighborhood or community because people change
people. In thirty years time, I do hope my volunteer activities will
have made a difference. If I can make a difference to one community,
then I have made a difference. Because a small change can trigger a
bigger change. If seeing one person gets someone else involved, then
more people get inspired and all our volunteer work makes a big
change.
Overall, I volunteer because I enjoy the experience and using my time to benefit others. Working
together with other people who have the same end goal in mind pushes
me to put all my efforts into creating something that I am proud of
and that someone appreciates.