Name: Sienna Rose Kaske
From: Portland, Oregon
Grade: Junior
School: Jesuit High School
Votes: 238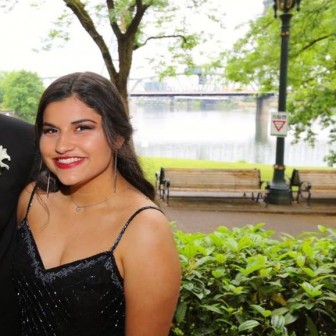 Sienna
Kaske
Jesuit
High School '17
I was seven years old when I realized I wanted to help people. My dream
at the time was to create a non-profit organization that serves
single mothers for their every need. The woman who drove this dream
of mine was my mom. She was a single mother at the time and
persevered through every hard day she had to face. As a result for
this blooming passion of mine, I began working at the St. Vincent De
Paul food pantry and Community Café (dinner every Sunday for the
less fortunate) at my local parish. Working side by side with my mom
and grandma, there I understood the meaning of giving. I chose to
work with the homeless because in my hometown, Portland, homeless
people are a large part of our community.
At my high school, every student between his or her junior and senior
year has to complete 65 hours of service. Some looked at this as a
burden but I looked at it as one of the best summers ever.
Volunteering is not about the recognition but to help someone who
needs a helping hand. For my service project, I chose to work at the
Rose Haven Women's Shelter. A shelter for women who are homeless,
escaping domestic abuse, and transgender. Rose Haven taught me that
it is okay to be different and to embrace my flaws. Every day I would
walk in at 8:30 am in the summer and begin my eight-hour day. Some
would think that it is excruciating to help people when you can be
doing summer activities, but I looked at it as an opportunity to
learn. With every story I heard from these remarkable women I there
understood the power of being a woman. I encountered beautiful
transgendered women who are overcoming stereotypes. Seeing all
different types of sexuality made me realize that Rose Haven was a
place that I, just a volunteer could call home because everyone is
equal there.
When my junior year started, I was devastated that I could not go
back to Rose Haven. Since some other girls in my class who also
volunteered at Rose Haven and missed it as well, we created a club at
school that continues to help the shelter from our campus. I became a
leader of the club and made deliveries to the shelter with the crafts
we made for the women there.
During my junior year, I joined diversity club because as a society
we need to embrace different cultures. I went on a diversity
conference where my school and four other schools came and we talked
about issues in our society concerning racism and how it affects
adolescents. There I realized that my generation could make a
difference in this world. This coming senior year, I will continue to
work at St. Vincent De Paul and Community Café with my family. I
will continue to work with the women at the Rose Haven Women's
Shelter and be a leader of the Rose Haven Women's Shelter Club at
my school. I will also be a leader of the diversity club at my
school. With my love of volunteering and my passion for human rights,
I have decided to enter the Peace Corps or Mercy Corps after
graduating college.