Name: Cameron Gadson
From: Washington, District of Columbia
Grade: Junior
School: DeMatha Catholic High School
Votes: 0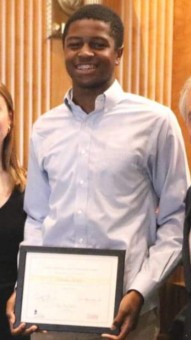 My name is Cameron Gadson. I am a rising senior at DeMatha Catholic High
School and originally from Washington DC. With me living in such a
big, urban city, it has enabled me to take in all of my surroundings.
Surroundings such as the massive amounts of homeless men, women and
children on the streets and the number of veterans who are left by
their families everyday. Through this, I am motivated to help my city
through my volunteer work.
My area of work varies. I could be volunteering at AFRH (Armed Forces
Retirement Home) one day then working at either DC Central Kitchen,
Martha's Table and/or SOME (So Others Might Eat) another day. All
the duties are different as well but the end result is always the
same, helping people all throughout my city. To add, I choose to
volunteer with these groups because I genuinely have a passion for
helping people. It puts a smile to my face when I can see I have made
someone happier just through my acts of kindness.
Ever since the tail end of my 8th grade year, I have been volunteering.
Since then, I have accumulated a total of 500+ volunteer hours.
Through activities such as bingo, casino nights and cooking meals, I
have been able to accumulate such hours. To add, I was just recently
awarded with the Washington College Leadership and Community Service
Award for my outstanding work in school and volunteering.
Volunteering is a very great aspect of life and I'm very proud to be
rewarded for my efforts.
Lastly, throughout all my years of volunteering, I feel my biggest challenge
as a volunteer was the beginning. I was new to everything and had to
learn the ropes very quickly. Everything from how to help residents
to what to make for them was very complex at the time for a small, 14
year old boy. But through those learning experiences, I was able
rising above and become one of the most respected individuals at any
volunteer institution in the Washington DC area.