Name: Sasha Samara King
From: Tifton, Georgia
Grade: Junior 11th
School: Abraham Baldwin Agricultural College
Votes: 0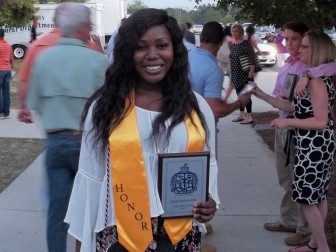 Sasha King
07/31/2017
Youth Forward
Scholarship Essay

Be the Change You Want to See!
Welcome to 2017, a time that most protestors or unions to support a cause aren't
done physically, but rather by cellular activists. Well, similar to
the needle in a haystack, there was me.
So it all started in the spring of 2014 when my Introduction to
Healthcare teacher, Ms. Hyde, mentioned volunteer hours. A few
minutes passed and as the class refocused their attention back to the
lesson, my mind still wandered about those volunteer hours and what
they meant. Now I was a sophomore and immediately I was drawn to Key
Club. My first project was the Adopt-A-Highway; I was super stoked
for the opportunity. I stayed an extra hour and gladly took my
t-shirt at the end.
During the first semester of my junior year, I joined IVY Group and
the volunteer opportunities kept rolling in. The first one was
handing out bags of non-perishable food items to the hungry. As I
handed them out it , it bothered me that most of the recipients
failed to make eye contact as if they felt less than a sixteen year
old girl even though some were over twice my age. I asked myself what
made people ashamed or unsettled when receiving help from others?
Eventually, the second semester came and I chose to take early
childhood education. The class gave me the opportunity to go into a
local Pre K center and interact with the teachers and students. At
this point I was an upcoming senior and I went my old daycare to
volunteer in the summer of 2016. Surprisingly, I found the answer to
my question, why are people ashamed of getting help. I was working
with the two and three year olds and I saw issues of super
independence. The children would cry hysterically when they failed on
their own. I had to step out of myself and bond with the children in
order for them to trust me. I explained to them that help is ok and
that it's ok to fail on their own because that's what they have
friends for, to help them. I realized that the world still had that
capitalistic mindset that said, "My things are my things and my
success is my success; these things determine my value", even in
two and three year olds. Aside from teaching them rudimentary skills,
I taught them how to be independent and even codependent when it's
necessary. I was a shoulder to cry on and a chastiser when I needed
to be. I changed pull ups and rocked them to sleep. Over all it was
an eye opening experience that showed me that you can make a
difference everywhere! Similar to mutualism in animals, the children
helped me find my purpose. My purpose is to be a teacher and now that
I'm a soon to be freshman in college, I'm excited to work towards
my purpose!