Name: Alexia Church
From: Chester, Pennsylvania
Grade: 11th Grade
School: Chestnut Hill College
Votes: 0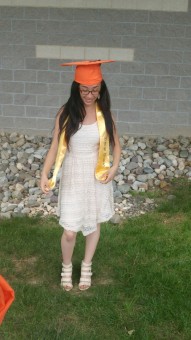 For the months of April- May, I have volunteered at a daycare called Tiny Hands and
Little Feet Academy. In this daycare, the teachers here educate
preschool children about history, safety, holidays, manners and
etiquette, equality, recognition of numbers, letters, colors, and so
much more. There are 3 individual classrooms which varies by
different age groups. In the first classroom, the age group are
infants to 1 year olds. The second classroom belongs to toddlers
(ages 1-3). The final classroom that prepares the children for
elementary school is the classroom which holds 4 year olds. As the
children progress in age, they move up to the next age group
classroom. Also, the daycare provides a drop off center for older
children whose parents need supervision for their children after
school. Following a regular schedule, the preschool children arrive,
eat breakfast, and then they have their morning circle time. After
their morning circle time, they have a learning circle which is
designed to teach the children about history, geography, the Pledge
of Allegiance, the 3 B's ( Be Responsible, Be Respectful, and Be
Safe), and other activities that are planned for the day. The
teachers plan a variety of engaging activities which is then followed
by lunch. Throughout the day, the children have their scheduled nap
time, snack time, class work time, and another circle time. At the
end of each week, the teachers create an assessment for the kids to
take in order to see what they've learned and what the child needs
to spend more time and attention on. The schedule on which the
teachers follow is a very effective schedule that they are very well
used to. On a day where the weather is nice, the preschoolers are
taken outside to play so that they can enjoy the outside environment.
The kids really enjoy going outside so that they can enjoy their free
time. For an Easter activity this past Easter, children with Easter
egg painting and hunting. After the kids painted the eggs, we put the
eggs aside to dry. The overall experiment was refreshing. The staff
members and the children have made this process for my senior project
less stressful. They all welcomed me with open arms, they were caring
and friendly, and they were also very supportive regarding my senior
project and the rest of my high school career. I've learned how to
help children with their transition from preschool to elementary, to
be more patient and caring, the importance of firmness when it comes
to directing a child in the right direction, and the importance of
child safety. I admire the relationships the teachers have with all
of the children. It is very visible that the teachers genuinely care
about the children's well being and their future. They make it their
daily routine to ask each child how they are feeling and if their day
is going well. The teachers go above and beyond for each and every
child, which shows me that they are very passionate about what they
do. To be able to provide my help to someone makes me feel like I
have a greater purpose in life. To have the chance to observe how
children learn, behave, and interact on a level which shapes them
into the individuals that they will soon become is something that I
find very enjoying and resourceful. I see my activities as forward
looking because this experience provided me a first hand chance to
observe children and good techniques that I can use with my own
children. I plan to use my volunteer experience to continue to help
educate and observe children by working/volunteering in more
daycares. I think if I were to go back 10+ years from now, I would
hope that I made a difference because of how I presented myself and
my character. I always assisted the children when they were working
with their classwork or other activities.