Name: Olivia Palo
From: Haddonfield , New Jersey
Grade: 11th
School: Paul VI High School
Votes: 2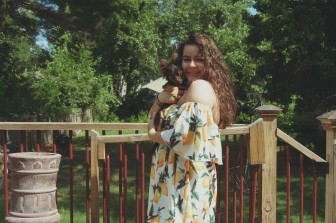 Volunteering is seeing the smile on a child's face after they see their new
playground. The happiness a special needs student gets when they have
their first slow dance. The gratefulness of someone receiving their
first hot meal in a while. And the wag of a tail when they get love
and a new home. All of which are things that I have had the pleasure
of experiencing. As a member of Students Helping Honduras, Samaritan
club, and Paw Pals throughout highs school, I have been grateful to
learn the joy of giving back.
I am blessed to have been dealt a lucky deck of cards and attended a
catholic high school. I will also be continuing my education next
year at Temple University. I believe that education can take you
anywhere you want to be in the world. The most recent service that I
have done, was going to Honduras and volunteering with an
organization called Students Helping Honduras (SHH). The organization
helps fight back against the youth gang epidemic by building schools,
early childhood homes, transitional homes, and bilingual schools. It
is a week long trip of intense, both mental and physical working
days. The days started at dusk and ended at dawn. Your clothes were
soaked in blood, sweat, and concrete; literally. People became
dehydrated, and sunburnt, and wanted to give up; but no one did. We
all needed to remind ourselves that we were doing this for someone
else.
The last morning when the children came to school and saw their new
playground, the looks on there faces were priceless. These children
are now able to have their first basketball, and volleyball team. As
well, in 2019 the bilingual school will be able to hold their very
first high school graduation. It's moments like these that remind
me why I do the things that I do. I'm the type of person who gets
satisfaction from other people's happiness, especially when I am a
part of it. This trip, and all other volunteering I do gives me joy
that I could never express in words.
Volunteer trips like this teach me how to be progressive, innovative, and
forward looking. They allow me to be the change in the world that I
want to see. The change that allows to break educational and racial
barriers, as well as stigmas against equation within races. I want
everyone around the world to feel as though they've had a chance to
succeed in this world and that their education has helped them to do
so. I want to spread the gift of education, and share the deck that
life has granted me.