Name: Lahreesia Blackmon
From: Orlando, Florida
Grade: 11th
School: Cypress Creek High School
Votes: 0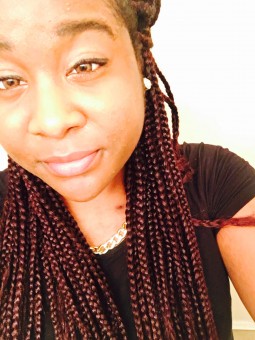 Lahreesia
Blackmon
Humility
from a Small Community
September
9th,
2016
Everyone should volunteer at least once in their life. I'm not talking about volunteering to wash the car, or take the dog for a walk either.
Volunteer in an Animal Shelter, Boys and Girls Club, at a local Homeless Shelter. Volunteering helps you see another aspect of life
that either you can relate to, or you have never seen at all. It opens your mind to be more thoughtful and open to the circumstances
that people are in and you could be the person that helps them overcome it and make an impact on their life. Being a part of your
community shows that you value it, and helping others in need humbles you as well.

Over the years, I have done a lot of volunteering and helping in and outside of my community. I was Youth Mentor at Communities in Schools in Raleigh, North Carolina for two years. At the Science Scholars Smart Academy, we participated in outdoor activities such as hiking, camping, canoeing, and scientific labs. We visited North Carolina Museum of Natural Sciences. As a Youth Mentor, I encouraged and helped children between the ages of 6-13 grow confidence in themselves, develop leadership skills, and work as a team while allowing them to explore science and develop a fondness in science. Strategies I included to get the children to cooperate is I played games with them, took them under my wing as in if they were my younger siblings, and connected to them through something common we can relate to.
My biggest challenge that I faced volunteering is that I was learning new things just like the children there were learning. I had to adapt
just like them, and maybe even more because I was in a leadership position. I had about forty to fifty kids looking up to me and I was
definitely outside of my comfort zone. It was the biggest responsibility I've had. I didn't know what exactly to do, but I knew I naturally inspire people. So I took my natural instincts, and I overcame the fear of change.
The satisfaction from being a volunteer is knowing that you made a difference in someone else's life. To see children from various
backgrounds and cultures come together as one group with a common goal, it humbled me. It was the best experience to be hands on, doing things I've only dreamed of doing. The adult mentors there were very encouraging as well. They taught me how to be more responsible and diligent while working with younger kids. It was a great experience overall.
From this experience, I've learned that being a leader means you have to set an example and be proactive while helping others. It's a big
responsibility and it takes a lot of time and perseverance but in the end it is worth it knowing that you have done something good and
changed someone else's life. I learned to not be so quick to judge others and respect them for their character and not what they have.
This experience really made me appreciate what I have even more and not take it for granted. It made me want to become more active in my community and be resourceful. To conclude, this is one of the best organizations I have volunteered for and I feel honored to be a part of a team of such supporting people. I feel proud to have been part of a group of hard-working people and I suggest to anyone reading this that you get involved. Get involved in your community. Influence someone in a positive way. I promise that you be better than you were yesterday because you will have a supporting cast right behind you. You will genuinely feel good about doing something that will actually cause positive effective change in your community. Get involved.