Name: Audrianna Kallie
From: Wahsougal, Washington
Grade: High School Senior
School: Washougal High School
Votes: 133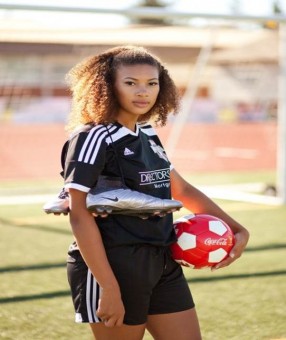 Volunteering has been a huge part of my life for the past 7 years. In April 2010 I started volunteering at the West Columbia Gorge Humane Society, originally walking Dogs, I started helping the Cat Shelter every Friday night by cleaning the entire shelter, doing laundry, dishes, feeding, changing litter, water, bedding, and comforting the shy cats. I truly enjoyed spending time with them, maybe too much, we adopted 2 cats from the shelter.
In June 2013 I inquired about coaching a young soccer team from a flier I received. The club desperately needed coaches, however the club is located a little over an hour drive, round trip. I agreed to 1 season; 6 seasons later I am still coaching the same team! I love the boys and am so proud of how far they have come. We have 2 seasons that last 3 months each year. During the season I held 2 practices weekly for an hour and half with a game every Saturday. During the summer I held
weekly training sessions for those that wanted improve their technical skills. I tried to do both the Cat Shelter and Coaching
but could not manage both with school and playing soccer myself.
I started out as the Assistant Coach, and my Mom was the Head Coach. The club recommends the coaches be at least 15. Once I turned 15 I became the Head Coach, being responsible for holding practice, I plan and supervise their training and focus on defensive and offensive play. My most important rule for sports is sportsmanship, I teach and enforce sportsmanship and respect to everyone. I don't tolerate sore losers or winners, I feel you have to work hard and your
attitude says more than your skills.
My biggest challenge is time commitment, with playing soccer year round, school, and coaching 7 hours a week it doesn't leave much time for anything else, but I love it and the boys I coach.
My satisfaction is knowing that I am making a difference in their lives, and I feel sports are important for health, confidence, teamwork, goal-setting skills and so much more. I look forward to seeing them grow as young men and soccer players. I have had some bad coaches and want to make sure the boys keep their passion and love of soccer, and always keep
a positive attitude and be respectful to others on and off the field.
I have learned that setting the example in what you do and what you say is important. I teach the boys the importance of sportsmanship and it is hard when you have a bad referee, mean coaches, and other teams. The boys are young and I have to constantly tell them, we don't go there and we are better than that.

Each year we get new players as our team grows and by enforcing my belief that respect for others is the key to success, I know in the years to come the boys I have coached will remember that and they will be successful on and off the field.