Name: Lindsay G Koberna
From: Holland, Michigan
Grade: Junior
School: Holland High School
Votes: 364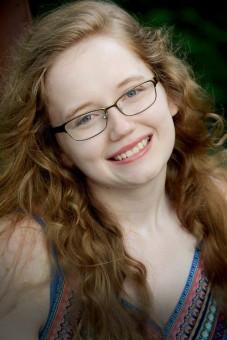 Their
Wisdom has Become Mine
By:
Lindsay Koberna

             Every Monday for an hour I visit my best friends, all 14 of them, at Resthaven, an assisted living center. These ladies are all a part of the memory unit and suffer from various levels of dementia. We spend our time together sitting outside watching the squirrels, doing paper crafts, and playing serious trivia games to help keep all of our brains sharp. But my favorite thing has to be when I can just sit and have a conversation with them. The ladies are all around 88 years young, and the wisdom each holds shines through every word they speak.
I have become close with several of these wonderful women however; most of them don't remember having ever met me. I have refused to let
this fact keep myself from making an impact on their lives and allowing them to make an impact on mine.
Lilian is a lady with whom I speak almost every Monday, and every Monday, it is as if we are meeting for the first time. One afternoon, Lilian and
I were conversing over ice cream sandwiches when she asked me her favorite question "What are your plans for the future?" I call this her favorite question because she asks me this each time we talk, but since she has no recollection of ever meeting me before, I go along with the conversation. My response is always some variation of wanting to either be a nurse or physician's assistant in geriatric medicine. Within moments, Lilian will forget the
conversation ever occurred and will ask once again "What are your plans for the future?"  I respond with a smile and continue on as if it's the first time the question is being asked. This cycle goes on for about 25 minutes before it is time for her to go inside and freshen up for supper. It only takes the 10 minutes of her getting ready to forget I was ever there. When she comes out of her room, she greets me as if for the first time.  
Every Monday I leave Resthaven knowing when I come back the following week, Lilian, as with most of the other ladies, will have no idea who I am. There are a few who are slowly starting to remember having seen me before, but they don't remember much past that. I volunteer at Resthaven because I have a passion for working with the elderly and because I want to make a difference in these 14 wonderful ladies' lives. People ask why I put in the time hoping to make a difference if they won't remember what I did in the morning. From my conversation with Lilian, I've learned that to the ladies I work with, it's the impact I make on them in the moment that matters most.
Lilian will most likely never know who I end up becoming as a person, but the conversation we have has pushed me to be a young woman that would make her proud.