Name: Cole B. George
From: Kingwood, Texas
Grade: Sophomore (10)
School: Kingwood Park High School
Votes: 0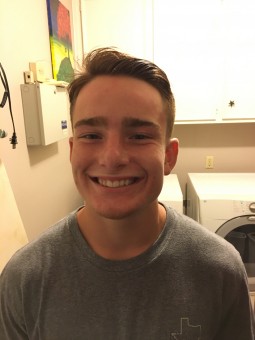 Volunteerism has always been a part my life, but how I look at it has changed over the
years. When I was younger I would do volunteer work with my parents,
such as neighborhood clean-up or working with rescued Greyhounds. As
I got into high school I had less time to volunteer, or so I thought.
At the beginning of my sophomore year I got my driver's license and one day I was
messing around with my friends in a parking lot. It was fun and games
until I backed into my friend's car. Furious, my mom told me I had
to repay the repair costs, and she meant in cold, hard cash by
getting a job. After nine months of paying restitution I still had a
large debt so my mother told me I could work it off by volunteering,
meaning I had to work as many hours as she did to pay off my debt.
I investigated options and decided that if I had to spend so many hours volunteering
it should be doing something I like, such as being outdoors and
helping the environment. Through my research I came across the
Student Conservation Association (SCA). The SCA is a nonprofit
organization that has many volunteer options for students, so I
applied for their school year program. I was accepted and immediately
felt right at home. My crew worked six weekends at Milby Park in
south Houston planting trees along a bayou. We worked tirelessly and
ended up planting close to 900 trees. Being an athlete, I tended to
do the heavy lifting and moved the bigger trees into place, while the
others planted them. The biggest challenge was organizing the group
to committing to one task at a time, but we managed to come together
and get the job done.
At the end of the project and 45 hours of volunteering, I felt a sense of pride after
spending so many hours planting and heavy lifting. The emotion I felt
was close to the one I felt after winning an important football game.
I already knew that team efforts are important and you can accomplish
great tasks through teamwork, but unlike a football game the work I
did will evident for a long time. I know in 20 years that the trees
that I had planted will still be standing and helping the
environment.

I initially had to volunteer to pay off a debt and learn a valuable
lesson about driving responsibly, but I got so much out of the SCA
that I have applied again for their school year program and national
park summer program, but this time it was my decision. We will
probably be working on damage caused by Hurricane Harvey and I am
ready for the challenge. Recently I was accepted into Texas A &
M's Geoscience program, and my work at SCA will be invaluable as I
further my education and work towards helping the environment in my
career.