Name: Christina Nakhla
From: Glenside, PA
Grade: 99ttcreativegal@gmail.com
School: 99ttcreativegal@gmail.com
Votes: 0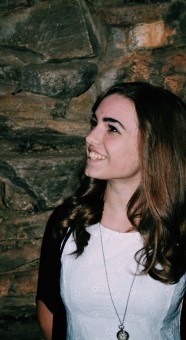 My name is Christina Nakhla and I am a recent high school graduate
working as a full-time volunteer at Germaniyya Evangelical Mission
Hospital in Aswan, Egypt before attending college next year. When I
first considered taking a gap year, I had several goals in mind.
Working here has given me a first-hand awareness of other cultures
while exercising my language skills in helping them. As a volunteer
working 30-40 hours per week, my responsibilities include taking care
of children, preparing activities, teaching English, and learning
Arabic so I can communicate effectively.
This experience has been filled with challenges. I've had to set aside
some of my own interests and learn how to work effectively alongside
both Germans and Egyptians amid cultural and language clashes.
Additionally, working with children in any circumstance has always
been a struggle for me, but I've grown so much as a result of these
challenges. Seeing the effects of my work has brought me immense
satisfaction. I love the kids I work with and love seeing that they
enjoy spending time with me and are enthusiastic about learning and
exploring new things.
I don't know if more of this kind of work lies in my future, but I've
loved the opportunity to be stretched a little outside of my comfort
zone and work with a mission that isn't centered around me while
knowing that I have left a positive impact on another person's
life.
Throughout my work, I've learned both how much cultures have in common and how
much they are polar opposites. I face challenges daily, but I've
learned how to build a desire for others to succeed that surpasses my
own desires. Volunteering isn't the sugary-sweet experience some
people believe it is. Although it is an endeavor of positivity and
the effects are priceless, volunteerism is a challenge for both
sides. More and more it brings to light just how broken the world
truly is, which is why we're needed.

I see a lot of chaos here. Many children are neglected by their parents, and the
society promotes an attitude of indifference to learning. Amid this,
I want to help the change by building personal relationships with the
children and encouraging them to explore. I want to see these
children become leaders who are intelligent and kind and who can
themselves change their world in the long term. It is all so much
more complex than just me, but I want to make whatever impact I can.
As volunteers, we are a small part of the difference. We have the task
of caring for the children while their parents do the more prominent
work in the hospital. On my own I don't know how much I can change,
but I've witnessed how the general work of the hospital is already
changing lives and it brings me so much joy to be a small gear in
that machine. Volunteering has truly been an invaluable experience
for me, and I would recommend it to others.