Name: Angela Arlene Ambrosio
From: Carson, CA
Grade: 10th grade
School: Academy of Medical Arts @ Carson Complex
Votes: 0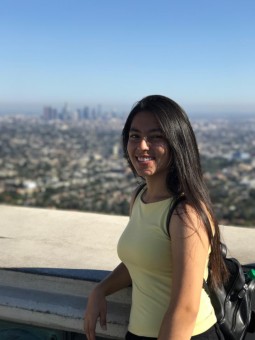 Angela
Ambrosio
My
Life to Carson
Over time I have been an active member in clubs and associations at my
school where our main focus is community service and volunteering.
However, since the age of 7, me being 17 now, I have been a mexican
folk dancer. Being so young I didn't see this as a form of
volunteering and it isn't until now where I see the impact of what
I do. My dance group is set in the city of Carson, California and is
a non profit organization. I like to say I got into this by fate
because there was just one day I saw all these girls wearing bright
colored skirts and dancing and smiling and I turned and looked to my
mom and said that's what I want to do and I have been since then.
Each week I spend between 3-5 hours at practice and over the weekend I
spend about 4-5 hours at performances as well as time that we travel
to places such as Texas and Las Vegas to represent Carson, let me say
added all together and after ten years I've spent quite some time
doing this. When I am performing or just at practice my
responsibility is to prepare, practice, and perfect dances and the
skills to put on shows for the city of Carson and other cities we may
be invited to. This takes an abundant amount of time and effort.
Being that this has been my life since the age of 7 I still face
challenges in my everyday life trying to balance school, my job,
volunteering with the homeless, and being officers of multiple school
clubs it is something on my mind that I know I need to manage.
Even if I'm stressed or worried I feel empowered when I see the audience
smile and be happy to see my dance group perform. That means
everything to me and that's why I've done it for so long. One
event that is probably the one I look forward to most is performing
for the disabled and those with down syndrome, they get so happy and
begin to dance with us and it really warms the heart to see this type
of interaction. Throughout to course of these ten years I learned
that it may not always to be easy to be an active volunteer but it is
an obstacle that can always help someone overcome it for the greater
good of the people.
I believe years and years in the future people will still look back and
remember these performances. I also think that years from now this
dance group will still exist and still be due to the heart and soul
we are leaving now in that dance studio and on these stages.
Everything always gets the opportunity to grow and become better and
I see this going forward to be successful to continue to leave behind
the memory and service that has been provided.