Name: Caitlin Kapusta
From: Easton , Maryland
Grade: 10th
School: Easton High School
Votes: 0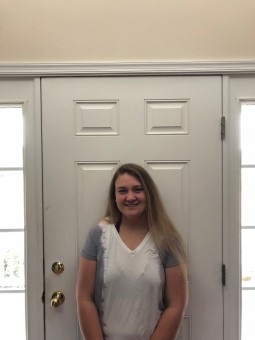 As
a young girl, I participated in a cheerleading program, where high
school girls would teach the elementary girls how to cheer. I looked
up to those high school girls like they were goddesses. They were
pretty, talented, and showed me kindness. When I cheered, I felt like
I belonged. I was never self-conscious or worried about what others
thought of me. My coaches made this possible; no matter how talented
or untalented my teammates and I were, we were all beautiful in their
eyes.
Fast forward a
couple of years, and I had the opportunity to go back to the program
but this time as a coach. I jumped at the chance to be a role model
for those young girls and the possibility to change a life for the
better. I saw myself in those budding children. All they wanted was
to fit in and wear what all the "pretty" girls were wearing. I
had sixteen weeks to change those thirty girls, build their
self-confidence, and emphasize the beauty that lived within them all.
However, this wasn't exactly the easiest task. I specifically
remember a girl, Trinity, who suffered from autism. She really
struggled in social aspects and believed that everything she did was
incorrect. I worked with her privately to help her learn at the speed
that she was comfortable with. She confided in me, explaining how
everyone was mean to her due to her unfashionable clothes, and she
didn't believe she was as beautiful as other girls. She was
sobbing, and I sat her down and told her what I saw in her: a
beautiful, intelligent young lady that one day will change the world.
I began to see Trinity flourish. She carried herself with confidence
that I had never seen her wear before. She developed friendships with
other girls on the team, she was no longer embarrassed by her
clothes, and most importantly, she no longer believed she was ugly.

This experience has forever altered my life for the better. The
inner me was buried deep down due to the negative environment and
lack of self-confidence and acceptance. Now I have taken my true
shape, a bubbly, vibrant, and cheerful individual. While I still
notice those bystanders staring at me, I no longer let it affect me,
because in my eyes, I am beautiful.
While I could have
been out socializing with my friends, I chose to help girls like
Trinity. In today's society girls and women experience so much
pressure to fit the stereotypical mold and are judged based on their
physical features. It's that pressure that causes us to be
self-conscious and unhappy with our appearance. I have been teaching
through the program for six years now, and if I helped or touched
anyone, in any way, then I wouldn't change any of it for the world.
Those girls will always have a special place in my heart because they
have helped to shape the strong, confident young lady that I am
today.