Name: Ashley Richards
From: Atlanta, Georgia
Grade: Highschool Junior
School: Georgia State University
Votes: 235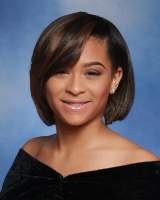 "Leadership
is the lifting of man's vision to higher plane, the raising of
man's performance to a higher standard, the building of man's
personality beyond its normal limitations."
–Peter Drucker 
According to Peter Drucker, "Leadership is the lifting of man's vision to a
higher plane, the raising of man's performance to a higher
standard, the building of man's personality beyond its normal
limitations." I have learned to be a leader; lifting my vision to a
higher plane as it relates to community service programs, raising my
standard of performance each year, and building my personality beyond
my own limitations. 
For seven years I have been a member of a community serving organization
called Boots Step Ministry. Our motto, "More than A Step Team"
best describes us because we do more than just step, we also
participate in community outreach activities. Every year my team and
I travel to Camden, NJ to assist the less fortunate by cleaning their
neighborhoods, hosting barbecues, and giving out care packages. Each
year, serving the community in Camden becomes a new experience for
me. In my first mission, I was able to see the living standards first
hand. I was thankful for this first mission because I gained a
different view of the less fortunate and I began to see the
difference between my own wants and needs. I came away from the
experience feeling very fortunate that I had access to the basic
necessities. It became evident that my effort to enlighten the people
in the community was also changing the way that I thought about
myself.
My experience in Camden lifted my vision to a higher plane and I raised
my standard of performance. Last year I becamethe
captain of the team in order to continue serving the Camden
community. This year I started an annual "Back2School" drive in
Camden to assist disadvantaged youth.
In the past seven years, I have been given the chance to experience
leadership firsthand and I have acquired the necessary skills of
communication and taking initiative. I have learned that the core
value of any leader is respect for oneself and respect for one
another. Through missions, I've been able to understand that
a key characteristic of any great leader is their personality.
Building one's personality beyond limitations means mastering the
ability to work with others and maintain great relationships. I have
been able to maintain great relationships with the community and will
continue to do so in the future.
My love for community service continues to grow stronger every year. I
am currently in the Student Alumni Association at Georgia State
University where we do community service in the downtown Atlanta
area. In addition, next semester I plan to join an organization
called Panther Leap, a program that teaches undergraduates how to be
a leader in the community at large. As I continue to develop my
leadership qualities, I am certain that I will one day live up to
Drucker's definition of leadership and build my personality beyond
its normal limitations in order to better serve my community.