Name: Molly Ruffing
From: Kaukauna, Wisconsin
Grade: High School Sophomore
School: Kaukauna High School
Votes: 0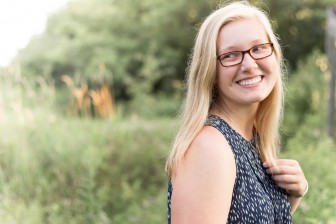 The most enriching experience I have had during high school is becoming a member of my
parish's Faith Formation Core Team. Upon the return from the Young
Neighbors in Action mission trip one summer, my parish's youth
group experienced a sense of initiative to truly be involved in our
community. One of our leaders shared her vision for a Core Team, and
I eagerly joined. As a member of Core, I am a catechist who
facilitates a group of seventh and eighth grade students in religious
education each week for roughly two hours. Through Core these past
two years, I have been given the opportunity to share my faith with
others and inevitably also grow in my own faith.
As a catechist, I have the responsibility to guide my students through
religious education. This task can be full of obstacles at times, but
I have learned to harness my patience and communication skills to
enjoy my time spent with my students while also teaching them about
the basis of Christianity. Our discussions have been truly humbling
as I have realized how insightful middle school students can be.
Often when I tell people that I teach seventh and eighth grade
students, they inform me of how brave I am for tackling that age
group. However, I can not imagine working with a different group of
students.
My small group is comprised of approximately twelve students. Though the
number of people I am effecting may seem small, the lessons will be
passed on to surrounding community members through students' words
and actions. I can also easily envision some of my current students
becoming catechists themselves one day. By providing students with a
positive role model and virtuous lessons, I believe that they will
shape their lives around the principles we teach and hopefully pass
them on to other people through their actions and own teachings. This
idea of always passing lessons forward is my definition of "forward
looking". These principles will cause them to not only be good
Christians but also caring people.
It is my aim not to simply educate my students but to also have them
actually do something beneficial for others with the lessons
provided. My hope for my students is that they do not necessarily
have the Ten Commandments memorized after class; I desire that they
acquire lessons about loving other people and seek to help others
without seeking any benefit for themselves. I yearn for my students
to walk away with a little part of them burning to make the world a
better place, similar to the desire I also have. This need to change
the world is something that I will always view as making a difference
because it is the basis of every good deed a person commits. This
desire has caused me to pursue a career in human rights law with the
plan to dedicate my life to other people.