Name: Madeleine Fry
From: Orlando, Florida
Grade: 10th
School: William R. Boone High School
Votes: 1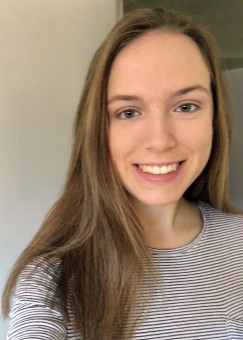 Voluntario
by
Madeleine Fry
Over the course of my high school career, I have gained valuable insight
on what it means to be an active member of my community. I've
volunteered with my school's Key Club, Florida Hospital,
ReadingPals, and the Hubbard House. When I first began volunteering,
one hour of service did not carry the weight it does now.
Volunteering has showed me compassion, leadership, and service. It
didn't take long for me to discover that community service isn't
done for myself, but for others.
When my journey of community service began at a low-income daycare earlier
this year, I discovered the true value of one hour of community
service. For 5 months, I tutored native Spanish speaking children in
English. The children weren't given opportunities to practice
English in their homes; their only way of learning English was the
daycare. At first I was unaware of what to expect, only knowing that
I wanted to help children. I encountered the biggest obstacle I'd
be facing on the very first day– the language barrier. A barrier
that I wasn't aware existed before volunteering.

Each Thursday at the daycare I'd read an English story to two children
individually, and ask them questions throughout the reading. In the
beginning, I was met with wide eyes and blank expressions. The widest
eyes came from Mateo, a sweet boy who didn't speak English. I'd
read a story to him and get cute puppy-dog eyes and a smile in
return. As Mateo and I progressed each Thursday, the blank stare
would slowly fade. I took Spanish in school to make communication
easier with Mateo. Slowly, he began to understand the stories I read
him. Day by day the language barrier deteriorated as I learned more
Spanish and he learned more English. I'd point to an object, say
the object, then point to it again later and ask him to say it. I
remember how his eyes would light up when he got the answer right,
which made my heart light up as well. It was gratifying to know that
I was playing a role in his life, and that hopefully one day he would
grow up and speak English like his peers. I look forward to the day
Mateo can fluently communicate with the people around him, and I want
to be with him every step of the way; to me, that is the meaning of
"forward looking."
All in all, community service isn't about what I gain. It's about the
opportunities others gain. I gain happiness knowing that they have
the new opportunity that I gave them. From my experiences with Mateo,
I learned of my love for teaching children. Watching Mateo progress
and grow in English was a reward in and of itself. In the future, I
aspire to continue helping children, specifically teaching them
English in the globalizing society that we live in.