Name: Madison
From: WAXAHACHIE, Texas
Grade: Sophomore
School: Waxahachie High School
Votes: 0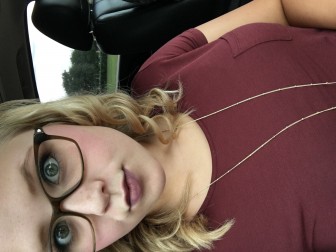 Madison Salzar
National Driving and Traffic School
2017 Youth Forward Scholarship
28 November 2017

I started volunteering at the Bridges Safe House, Inc. in Cedar Hill,
TX with my great grandmother for three years up until she passed
away, my seventh grade year of junior high, six years ago. My great
grandmother and I would help cook food for the women, young teen
moms, and their children to enjoy during the holidays and we would
also bring gifts that included; clothing, shoes, the basic
necessities for infants and toddlers. We also brought toys, board
games, coloring books with colors, and books to read along with
learning books for kids that were not enrolled in school yet.
Although the women and kids that live in these temporary Safe houses
might think that some people are there to "help" for the
publicity or so people will think more highly of them, but I was
there with my great grandmother because I love helping others and
spending time with the children and listening to that mothers
background story simply because you have no clue what their situation
was before they found a Safe house to help them get their life on the
right track so they as a mother can provide the best life possible
for their child.
As I loved volunteering and being around such amazing and kind-hearted
people, I also volunteered at the Ellis County SPCA with all of the
animals! I wanted to volunteer at the animal shelter mainly because I
absolutely love animals to death and they deserve love and attention
just like any human being on this planet. My goal in life is to
actually become a large and small animal Veterinarian as well as a
livestock and reptile Veterinarian, even though most people think
dogs don't have feelings or that they are "just some stupid
animal" really do infuriate me because animals do have feelings,
they know exactly what you are saying and are very very bright
mammals that walk this earth among the other thousandths that live in
the wild and I believe that if a person who thinks a dog is worthless
and has no feelings should honestly go volunteer at an animal shelter
because no matter how much pain that animal endured from their owner
they will always be by your side and love you unconditionally even
after they have been abandoned and that experience will humble you
and change your view on animals. I hate seeing people hurt, in
pain, and depressed but what breaks my heart even more is when I
walked through those double doors and I see these poor innocent
animals scared, trembling bones shake the floor as I walk through to
start helping unload bags of food and learn what my responsibilities
are as a volunteer. Volunteering with those animals has humbled me
because when I sat in the cage with this gorgeous blue merle
Australian Shepherd mix he growled and snarled at me anytime I looked
at him, this dog had fear in his eyes every time you moved and I knew
he was beaten and abused by his owner. As I volunteered with these
animals I got to help show them that not all humans are terrible
people and I had the opportunity to love and care for these animals
so they would no longer fear humans and would hopefully find a loving
and caring family that will stay by that animal's side until the
day they die because that animal would put his life before yours in a
heartbeat and not even understand what is happening or the decision
that animal just made to protect you (his human).
Although I didn't volunteer at an Assisted Living Facility and give back to
my community through the people who had created my hometown to be as
successful it is to this day, I did give back to my community in a
way that I thought would touch more hearts and souls than playing
chess with the elders who live in this town. I know people wouldn't
consider volunteering at an animal shelter as a way of giving back to
your community but to me it most definitely is because I strongly
think that our animals are apart of our community! I am beyond
grateful for the opportunities god has placed in my life so that I
could offer my time, love, and help for the women, teen moms, and
children at the Bridges Safe House and at the Ellis County SPCA. I
have learned that you should always be grateful, humble, and kind
because no person will ever know what someone else is going through
unless they have taken a walk in their shoes, volunteering with those
women has made me very grateful and thankful for the family I have
and the roof over my head, clothes on my back, and a meal in front of
me three times a day. Even though my great grandmother has passed I
hope to continue being an inspiration to others just like she was.