Name: Samantha Curren
From: Yucaipa, CA
Grade: 10
School: Yucaipa High School
Votes: 103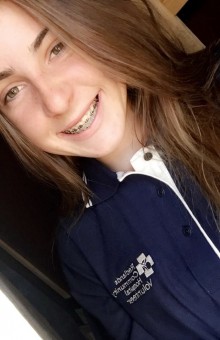 (909)-725-1354
A Day for a Future
February of 2016 I began volunteering at Redlands Community Hospital in Redlands, CA.
I am a volunteer (and trainer) in their Labor and Delivery unit. I
chose to volunteer at Redlands Community Hospital because it is a
family-based hospital that is advanced in Neonatal care. I volunteer
every Monday evening for two hours, but for the past month and a half
I have been voluteering three days a week, being a total of six
hours, to train new coming volunteers. As a Labor and Delivery
volunteer I take on many tasks, and over time am given many new ones.
For the most part, I sign in patient labs, such as: placenta,
cultures, blood, etc. into the Laboratory book, stock patient rooms,
answer phones, stock cribs, transport OR tools to sterilization, and
bring patients whatever they desire. Everything you do comes with a
challenge, and even being a volunteer has challenges of its own.
Anyone who has stepped foot into a hospital knows it is a fast-pace
and stressful environment. Being a volunteer means working under the
rule of nurses and doctors, who do not have time for mistakes. The
biggest challenge as a volunteer is balancing all the tasks given to
you in a timely manner to insure the nurses are not slowed down.
Aside from the challenges, being a volunteer is all around
satisfying. Every day at the hospital I learn new things that will
benefit me in the future, whether it is a new medical term or simple
life advice from the nurses during their break from bouncing room to
room. During my time at the hospital I have learned that Labor and
Delivery is not always a happy place; along with life itself. Every
day brings good things; such as a healthy full-term newborn child,
and bad things; a single mother spending three days in triage having
a miscarriage at 24 weeks, alone. This has taught me that the bad in
life is inevitable, but you cannot focus on the bad when there is
more good taking place.
In the future I will be a Neonatal Nurse Practitioner. These nurses focus on the
care of neonates, and my primary focus will be in the NICU. NICU
babies are usually born pre-term and need assistance with basic
concepts such as: eating, breathing, and in some cases staying alive.
Labor and Delivery has taught me basic things I need to know for my
future studies. My future has a positive outlook because I will be
helping those who cannot help themselves. In the future I wish to
prevent pre-mature births, so these babies will not have to suffer.
The past year I have spent volunteering has benefit me greatly, and
has made me a more ideal candidate for the nursing position.